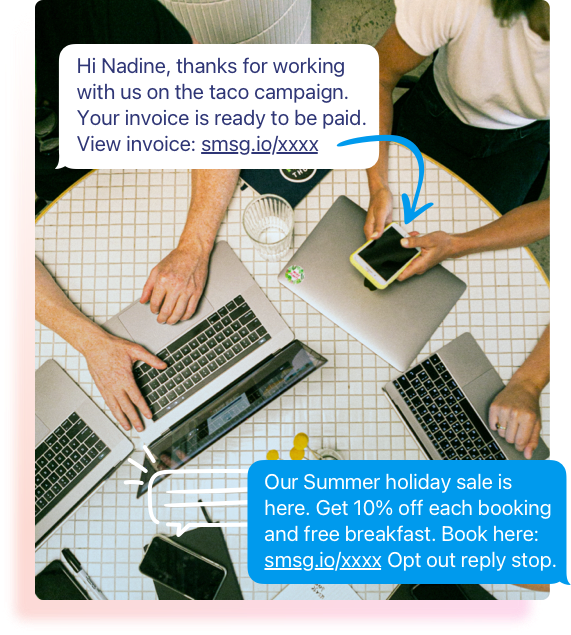 Be the go-to text expert for your clients and create winning campaigns
Show your clients the magic of SMS and look like the smartest marketer in the room. It's an effective marketing tactic with great click-through rates. Win-win.
60% of companies plan to increase text messaging budgets this year
Smart marketing and advertising agencies are partnering with trusted texting platforms to support clients who want to add texting to promotional campaigns.
ClickSend is simple to master and reliable. With flexible features and 900+ integrations, your clients are never limited.
Add texting to your multi-channel campaigns and pull the data into your favorite tool.
Become the text expert for your clients—without spending hours learning tech or SMS jargon.
Pitch a text messaging tool you can trust
Use a texting provider you and your client can rely on for entire campaigns. Choose a secure tool that 90,000+ businesses trust.
•
Use a secure platform with a 100% uptime guarantee, our software doesn't stop.
•
From one message to a million, send large campaigns without stress via trusted direct routes.
•
Make multi-channel campaigns a breeze, ClickSend plays nice with email and sales software.
Get all the support you need to understand texting from the inside-out
Our team are experts. They'll help you truly understand text messaging so you can sell in SMS with confidence — and get rewarded for it.
•
Become a reseller and earn a commission every time your client uses ClickSend.
•
Give your developer a head start with our much-loved and famously simple API docs.
•
We're always here to help. Our people are online 24/7 to answer your questions.
The suprisingly-easy way to open-up communication at your agency
Get paid faster and keep everyone updated on projects. Add texting to any of the project management or invoicing tools you use at your agency via our 900+ integrations.
•
Speed up agency communication with text to deliver projects on brief and in budget.
•
Add ClickSend to your accounting software. Send a text nudge when invoices are due.
•
Fire off super-quick client communications, share urgent updates and get fast responses.
Super way to creatively advertise
"Whether it's alerting my clients of a new lead, immediately texting new leads a thank you, or text blasting for my clients, it's a simple way of getting ad campaigns together to include text."

Easy to use and fairly priced
"Easy service to use for us, it has allowed us to reach clients easier and has increased response time drastically. After using another SMS service, ClickSend offers a much simpler and intuitive solution with inexpensive features for our medium-sized business."

Agency automations
"I use ClickSend for automations within my digital marketing agency and I'm exceptionally pleased with them."

Book a ClickSend tour
Book a free demo with one of our experts. They'll answer any questions.
Do a budget-check
Match our competitive pricing against your client's budget.
Check pricing
22 ways to build a list
Let's go
Join over 90,000 companies sending billions of messages with us in the United States and around the world. Get started with your free trial.